Minitel -- the resistible rise of French Videotex Ewan Sutherland
---
Groupe Brun Passot
Acknowledgements to Michel Bernasconi (Ceram, France) who first presented this material at an EIASM Workshop in September 1990.
---
Papeteries Brun/Passot
The stationery trade in France in 1991 was worth 25 billion Francs, an average of FFr 2,2000 per employee. Of this 67% is sold to companies and government, the rest to individuals.

The industry was very fragmented. The leader, Bruneau, had only a 5% market share, while Brun Passot had only 1.8%.

Suppliers were not seen as adding value to their products, which were basicallly the same as those of competitors. The products themselves were consumed and they could not be differentiated using technologies.
Groupe Brun Passot
Brun Passot delivers over 12,000 product lines to over 15,000 locations in France. Daily it handles 10,000 invoice lines.

Customers included:
Renault
Thomson-CSF
Peugot
Pechiney
Digital
Total
Michelin
Crédit Agricole
Dassault
Lafarge
Spie Batignoles
SNCF
Esso
Shell
Rhone Poulenc
Framatome
Atochem
Sanofi
ICI
Figure
Growth of electronic business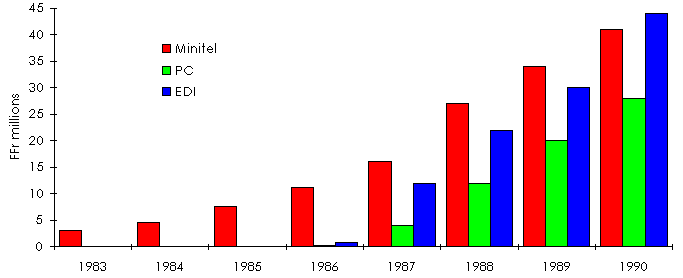 ---
Informatising the business
For clients, administration and stock costs are from 18 to 45 percent of total stationery budget. Stock can represent as much as four to ten months of use.

Under the new scheme, Brun Passot would manage a company's total stationery operation, in terms of:

The aim was to provide just-in-time, on-line ordering of stationery.

Thus Brun Passot could talk in terms of total budget and not of individual products and prices. Consequently, it managed an annual contract with a director, rather than a purchasing manager. It now sells software products and services.

The salesforce is evaluate on the saving made for clients. Sales staff were specifically recruited from the computer industry.
---
Telecommunications support
Year
Technology
1983
Minitel
1985
PC Siclad
1987
Internetwork communications
1990
EDI
1990
Numéris (ISDN)
PC Siclad is Minitel software for a PC.
---
Conclusions
The strategy was different from rivals and perceived as such by clients.

It presented high switching costs for clients.

Competences in IT were developed and retained in Groupe Brun Passot. The company has shown a willingness to accept new technologies.

A champion supported the changes in business and IT strategies.
---
[ Introduction | Invention | Marketing | French telecommunications | France Télécom | French videotex | Messagerie Conviviale | Unnatural market | Cour des Comptes | Quickening pace of technology and politics | Conclusion | Bibliography | Chronology | Web links ]
---
Copyright © Ewan Sutherland, 1995.