Georgetown University
Business Systems Planning
Ewan Sutherland.
---
The need for BSP
Until the control and planning department was established, IBM had little overall direction in the internal use of computers. If fact, little coordination took place between divisions; most data processing activities were confined to locations and units within divisions. consequently, each manufacturing plan and marketing region developed and operated its own system. Although the individual systems carried out similar functions, they differed n design and performance; they could not be used interchangeably and could not communicate with each other.
---
Potential benefits
Information systems management:
awareness of information systems within top management
communication with top management
methodology for staff to help meet business needs
user involvement in setting priorities in information systems
---
Business Systems Planning
focus on concept and design of integrated corporate database and not on organisational structures or management techniques
shift from individual applicatiosn to data and information
idealistic in assuming that information systems can be built from scratch
---
Stages of the BSP Processes
gaining the committment
preparing for the study
starting the study
defining business processes
defining business data
definign information architecture
analysing current systems support
interviewing executives
determining architecture priorities
reviewing information resource management
reporting results
---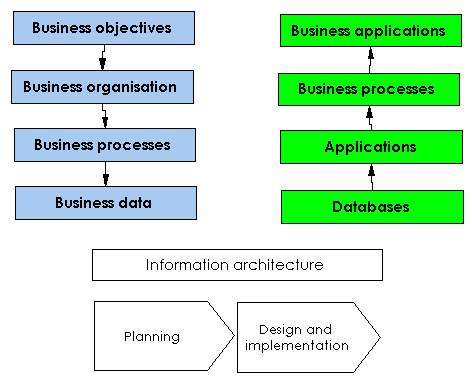 [Source: IBM (1984), page 9.]
---
From operational to management control: addressing the failings:
failing to obtain executive commitment
objectives and strategies out of line with overall business objectives
implementing information systems without understanding the views of general management
implementing new company-wide information systems, rather than an evolving plan
failing to pu in place Information Resources Management functions to manage the information
---
Potential benefits to senior management
an evaluation of the current effectiveness of the IS function
a logical approach to solving management control problems from a business perspective
an assessment of future IS needs, based on business priorities
a planned approach to give an early return on IS investments
IS relatively independent of organisational structure
greater confidence that IS management can deliver
---
Potential benefits to functional and operational management
logical approach to help solve management and operational problems
consistent data, usuabel and shared by all
top managers involved and committed
systems orientated to the needs of managers and users, rather than to the needs of data processing
---
Copyright © Ewan Sutherland, 1994.